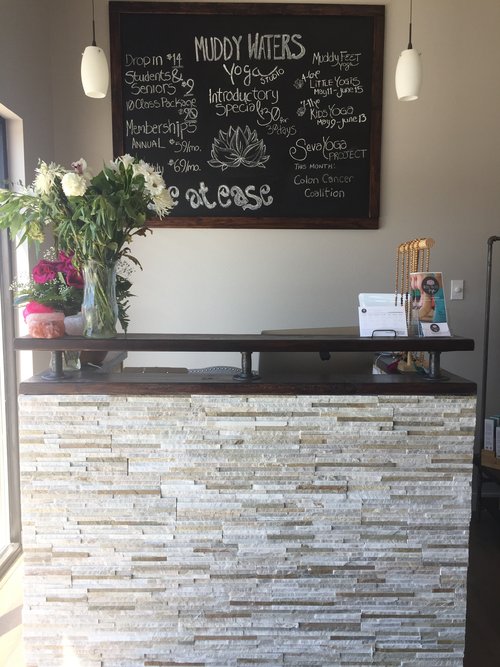 MUDDY WATERS YOGA STUDIO COURTESY
Pre-register for classes online in order to save your spot.

Please de-register for classes (at least 2 hours prior if possible) if you can no longer attend.

Arrive 10-15 minutes early, our door is locked 5 minutes after class begins.

If the door is locked, a class is in session or we are closed.

Remove your shoes in the lobby.

Wear comfortable clothing.

Please be mindful of the items you bring into the space.

Turn off sound and vibrate options on all electronic devices.

If you have any health concerns, please inform the teacher before the class begins.

If you use a studio yoga mat, please clean it after your session.

Please avoid wearing heavy scents in the studio.
If you could be so kind to:
FREQUENTLY ASKED QUESTIONS
What is Yoga?
Yoga is considered both an art and a science of living. Yoga is a multi-disciplinary system designed to support an individual on his or her journey to self realization. The aspect of yoga that we practice primarily in the western world is the physical movement practice better known as 'asana'. One of the beauties of the physical practice of yoga is that the poses both support and sustain your other everyday activities- however active or inactive you might be.
WHY DO YOU REFER TO YOGA CLASSES AS A PRACTICE?
Yoga is a 'work-in', the work-out happens naturally. Think of yoga as less like a sport and more like a personal journey. There are many elements of yoga to master, such as breath, mindfulness, postures, alignment, and personal awareness to name a few. Each time you enter a yoga class your body and mind will be in a different state. Sometimes a pose can feel easy and sometimes it takes intense focus. There is no such thing as perfection in the competitive sense, so just experience the challenge of the journey. Yoga takes practice, therefore we like to call it just that.
DO I NEED TO BRING A MAT?
We suggest you bring your own mat if you have one. We have complimentary thin mats and Manduka Prolites for a $2 rental fee.
WHAT IS BARRE?
Barre is a combination of yoga, Pilates, and dance. We use small isometric movements to get a deep muscle burn and then move big. Longer holds fatigue the muscles creating long lean muscles. Barre will push you to the edge in the best way possible and open to all fitness levels.
How do I register for classes?
Go to our scheduling page and find the class you'd like to attend. Fill in your email address and name. That's it!
How do I deregister for classes?
Go to our scheduling page and click on my account on the top. You will create a password that will allow you to login and deregister for any class you can no longer attend. You can also do this on the MindBody app.
What is your cancellation policy?
We know life happens. And we believe in taking good care of people.
If you do not cancel at least 2 hours prior or do not show up for class, you will be charged for the class If you are on an unlimited package, you will be charged a $5 late cancel/no-show fee.
Here's why: We have limited amount of mat spaces in each class. When you register and don't cancel, a mat space is taken and someone who wanted to get into class is at home crying. Our instructors get paid based on the number of people in their classes. No shows mean they don't get well-deserved pay for sharing their gifts with all of you.
In order to help this process, we will: Open registration only 14 days prior to the class because who remembers that they registered for a class 4 weeks from now? Enable a waitlist. Class is full and you want in? Simply add yourself to the waitlist. You will receive an email if someone cancels letting you know you're in.
Here's what we recommend: Plan your week on Sunday evening. If you have any doubt that you will be able to make the class, don't register until you know for sure you can commit to being there. Cancel as soon as you know you won't be able to attend so that waitlisted students can get their flow in.
CAN I DO THE CLASSES IF I AM PREGNANT?
Yoga and barre are wonderful for women in all stages of pregnancy. We do not recommend pregnant women attend Power Flow if it's not already in your pregnancy due to the heat. It is recommended that you consult your doctor before participating and talk to your teacher about participation.